Community Foundation of the Lowcountry awards $150,275 in grants to three local organizations
Posted on March 23rd, 2018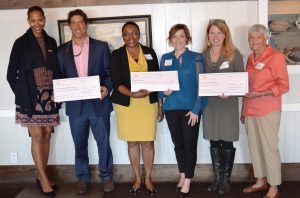 Hilton Head Island, SC – Community Foundation of the Lowcountry awarded more than $150,000 in grants to three local nonprofits on Wednesday, March 21. The grants are part of the Community Foundation's three-times-per-year competitive grant cycle.
Since the Community Foundation's creation in 1994, the organization has awarded more than $65 million in grants and scholarships.
The awardees and their supported programs are:
Port Royal Sound Foundation: $26,500 to develop a master plan for 105 acres that was recently acquired in partnership with Beaufort County.
Planned Parenthood South Atlantic: A two-year grant of $60,000 to hire a full-time community health educator to provide evidence-based sexual education for teens and their parents.
The Marine Sensory and Neurobiology Lab at University of South Carolina Beaufort: $63,775 to acquire a vehicle, boat and equipment that will allow USCB to track critical data and monitor the marine environment in a larger geographic area of the Lowcountry.
Since 1994, Community Foundation of the Lowcountry has been connecting people, resources and needs by helping build stronger communities and assisting donors in making a difference through charitable giving. With over 325 charitable funds, combined assets totaling $73 million and grantmaking and scholarships reaching almost $66 million, Community Foundation of the Lowcountry is the largest source of unrestricted philanthropic resources dedicated to Beaufort, Colleton, Hampton and Jasper Counties.
For more information contact us at (843) 681-9100 or visit our website at www.cf-lowcountry.org.
# # #
Deprecated
: Function previous_post is deprecated since version 2.0.0! Use previous_post_link() instead. in
/home/dh_se6366/scgrantmakers.com/wp-includes/functions.php
on line
6031
← Previous
Deprecated
: Function next_post is deprecated since version 2.0.0! Use next_post_link() instead. in
/home/dh_se6366/scgrantmakers.com/wp-includes/functions.php
on line
6031
Next →