Community Foundation of the Lowcountry Launches Volunteer Resource Guide for the Holidays
Posted on November 19th, 2018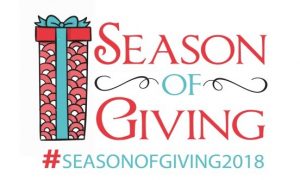 As the holidays approach, many of us feel a desire give back or help those less fortunate. Local nonprofits plan seasonal drives and activities to ensure their clients experience holiday cheer. And residents of the Lowcountry answer this call by donating toys and coats, serving meals, helping at agency's holiday parties or doing other generous acts.
If you're looking for an opportunity to help local organizations during the holidays, Community Foundation's Lowcountry Volunteer Connection's Season of Giving is your perfect resource. Season of Giving is a listing of holiday needs, drives and volunteer activities in the Lowcountry. Whether you want to sponsor a family for the holidays, donate a toy or help serve a meal, all the opportunities are listed on Season of Giving. Just visit www.cf-lowcountry.org/seasonofgiving and you'll find a listing and instructions on how to participate. Check back frequently, as the list is updated often.
If you're nonprofit or agency would like to post a seasonal need, contact Debbie Cahoon at dcahoon@cf-lowcountry.org or 843.681.9100
Since 1994, Community Foundation of the Lowcountry has been connecting people, resources and needs by helping build stronger communities and assisting donors in making a difference through charitable giving. With more than 335 charitable funds, combined assets totaling $70 million and grantmaking and scholarships reaching $71 million, Community Foundation of the Lowcountry is the largest source of unrestricted philanthropic resources dedicated to Beaufort, Colleton, Hampton and Jasper Counties.
For more information contact us at (843) 681-9100 or visit our website at www.cf-lowcountry.org.
# # #
Deprecated
: Function previous_post is
deprecated
since version 2.0.0! Use previous_post_link() instead. in
/home/dh_se6366/scgrantmakers.com/wp-includes/functions.php
on line
5453
← Previous
Deprecated
: Function next_post is
deprecated
since version 2.0.0! Use next_post_link() instead. in
/home/dh_se6366/scgrantmakers.com/wp-includes/functions.php
on line
5453
Next →