Molly Talbot-Metz named new President/CEO
Posted on April 24th, 2018
FOR IMMEDIATE RELEASE
Spartanburg, S.C. – Molly Talbot-Metz has been named the next president and CEO of the Mary Black Foundation, succeeding Kathy Dunleavy, who retires at the end of June 2018.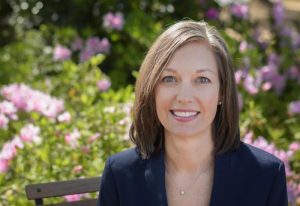 Talbot-Metz will become the foundation's fourth leader since it was established as an independent grantmaking organization in 1996. A native of Syracuse, NY, she joined the foundation in 2001 as its first program officer. She became the director of programs in 2007 and was named vice president in 2013.
Molly has a Master of Public Health Degree from the University of South Carolina and a Bachelor of Science Degree in Health Education from the State University of New York at Cortland.  She is actively involved in the community through service in the Spartanburg Downtown Rotary Club, as an ex-officio member of the Northside Development Group, and as vice chair of the Spartanburg Housing Authority. Molly is also the immediate past chair of the SC Grantmakers Network. "I look forward to working with our team of dedicated staff and members of the board of trustees to improve health and wellbeing for all people in Spartanburg County," said Talbot-Metz.
"Molly brings a deep understanding of philanthropy and the challenges and opportunities facing our community, as well as a true passion for the work of the foundation," said foundation Board Chair Tony Fisher. "Her experiences, expertise, and collaborative community relationships put us in the best position to continue and strengthen the work of the foundation."
The Mary Black Foundation is an independent, private foundation. Since 1996, it has paid more than $51 million in grants to improve the health and wellness of the people and communities of Spartanburg County. Additional information about the Foundation is available at www.maryblackfoundation.org.
Deprecated
: Function previous_post is deprecated since version 2.0.0! Use previous_post_link() instead. in
/home/dh_se6366/scgrantmakers.com/wp-includes/functions.php
on line
6031
← Previous
Deprecated
: Function next_post is deprecated since version 2.0.0! Use next_post_link() instead. in
/home/dh_se6366/scgrantmakers.com/wp-includes/functions.php
on line
6031
Next →