Spartanburg County Foundation welcomes Cathy McCabe as new Trustee
Posted on January 8th, 2018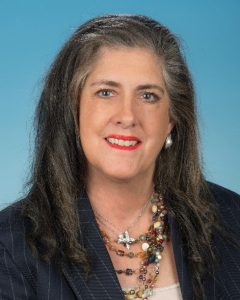 SPARTANBURG – The Spartanburg County Foundation is pleased to announce the election of Cathy Hoefer McCabe to the Board of Trustees for a term of seven years.
Mrs. McCabe received her Bachelor of Arts Degree in History and Spanish from Columbia College and Doctor of Law Degree from USC School of Law.  She recently retired as Spartanburg City Attorney where she worked since 2007, after serving nearly two years as Deputy City Attorney.  Prior to joining the City, Mrs. McCabe was partner at The Ward Law Firm and Leatherwood Walker Todd & Mann, PC.
Mrs. McCabe brings extensive knowledge, leadership experience, and legal expertise to The Spartanburg County Foundation Board of Trustees.  In addition to her legal experience, Mrs. McCabe was an educator for 12 years, teaching at Whitlock Junior High School and St. Paul the Apostle School.  She is a member of the American Bar Association, South Carolina Bar Association, Spartanburg County Bar Association, Supreme Court Lawyers Disciplinary Council, and is a founding member of the South Carolina Women Lawyers Association.
Mrs. McCabe formerly held leadership positions on the board of directors for Women Giving for Spartanburg, Breakfast Business & Professional Women (BBPW), League of Women Voters, and Girl Scouts of South Carolina – Mountains to Midlands.  She currently serves as chair of University of South Carolina Upstate Foundation and is a Sustainer of the Spartanburg Junior League.
Cathy and her husband, Jim, reside in Spartanburg where they enjoy quality time with their family.
###
The Spartanburg County Foundation is dedicated to improving the lives of Spartanburg County residents by promoting philanthropy, encouraging community engagement and responding to community needs.  Established in 1943, The Spartanburg County Foundation is the oldest community foundation in South Carolina.  Additional information about the Foundation is available at www.spcf.org.
Deprecated
: Function previous_post is
deprecated
since version 2.0.0! Use previous_post_link() instead. in
/home/dh_se6366/scgrantmakers.com/wp-includes/functions.php
on line
5453
← Previous
Deprecated
: Function next_post is
deprecated
since version 2.0.0! Use next_post_link() instead. in
/home/dh_se6366/scgrantmakers.com/wp-includes/functions.php
on line
5453
Next →