The Greenwood County Community Foundation (GCCF) has awarded a $50,000 Innovation Grant to Project Hope
Posted on September 20th, 2016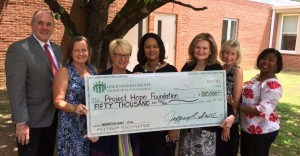 Greenwood, SC – The Greenwood County Community Foundation (GCCF) has awarded a $50,000 Innovation Grant to Project Hope, a Greenville-based organization that offers a wide range of services to individuals with autism and their families. Project Hope has since begun an Applied Behavioral Analysis (ABA) therapy program in their own facility in Greenwood, a repurposed elementary school building well-situated for clients and service providers. ABA therapy has proven to be transformative in the lives of those with Autism, as well as their families.
The Innovation Grant to Project Hope is the largest Community Impact grant awarded by GCCF in its 5-year history. This organization has also received substantial support anonymously through a Donor Advised Fund at GCCF.
GCCF Innovation recipients present projects or programs that creatively address an identifiable community need or aspect of quality of life, reflect effective collaboration with other community organizations, and use existing resources and maximize current community assets. Project Hope has actively developed partnerships with the Greenwood Genetics Center, the Burton Center, Greenwood School District 50, Lander University, Piedmont Technical College and other Greenwood entities involved with autism and professional training.
Deprecated
: Function previous_post is
deprecated
since version 2.0.0! Use previous_post_link() instead. in
/home/dh_se6366/scgrantmakers.com/wp-includes/functions.php
on line
5453
← Previous
Deprecated
: Function next_post is
deprecated
since version 2.0.0! Use next_post_link() instead. in
/home/dh_se6366/scgrantmakers.com/wp-includes/functions.php
on line
5453
Next →