A Catalyst For Good
Posted on June 18th, 2020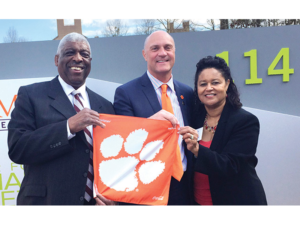 By Tammy Joyner, Greenville Business Magazine
Shortly after the pandemic hit and home-delivery demands ramped up for Greenwood County's Meals on Wheels, the food delivery nonprofit hit a snag. A food steamer used to prepare food died.
Around the same time, the county's Salvation Army and the local domestic violence shelter were swimming in requests for help with rent, utilities and other bills from people who'd lost their jobs due to the coronavirus. Women with children needed a place to escape from daily abuse at home now that the state was under a shelter-in-place order.
In each case, the Self Family Foundation stepped in with grants totaling about $40,000 to help place domestic abuse victims in hotels and pay people's bills. (The money was in addition to grants the foundation normally distributes four times a year.) The foundation also helped convert the local YMCA's gym into a childcare facility for health care workers as well as others deemed essential workers.
At the helm, helping to put out the local pandemic-related fires, was Mamie Nicholson – a homegrown, high-energy strategist who marshalled the forces from her Greenwood home.
"It's not that hard when you already have the relationships, when you already have an open door where the nonprofits know they can pick up the phone and call," said Nicholson, a 43-year employee and program director at The Self Family Foundation.
That combination of confidence, grit and tenacity helped cement Nicholson's selection as the next president of the Self Family Foundation, one of South Carolina's most prestigious philanthropic organizations.
"She fits the position. She's got all of the institutional knowledge that would take an outside candidate a while to come up to speed on," said James C. "Jay" Self, chairman of the board of trustees of the foundation. The foundation was created by his great grandfather in 1942 after a tornado destroyed the local hospital. The Self family's wealth grew from Greenwood Mills, a textile mill started in 1889 and later purchased by the Self family in 1935. The company has since expanded into real estate and insurance.
Self approached Nicholson about becoming president of the family's foundation last December. She succeeds Frank Wideman III on July 1. Wideman was foundation president for 27 years.
"What most stands out is how well-respected she is among our nonprofits and how connected she is in the community in the areas we wish to serve," Self said. "She knows our organization inside and out, and has been with our family for a long time. She has mentored many of our local nonprofit leaders."
When the board meets to determine where money will be allocated, Nicholson often knows the backstory of the applicants, Self noted, which enables the board to get a clear understanding of the organizations and their needs.
"She'll be the face of the foundation," he said. "I don't have to worry about putting her on my dream team, she's already on it. I'm just giving her a bigger role."
That role also places Nicholson among an elite group of African American, female-led foundations in the Southeast. Nicholson, who was born in the Promised Land community of Greenwood County, is the first black and first woman to lead the 78-year-old Self foundation.
For Nicholson, the agenda of her presidency has already been set. The pandemic has seen to it.
"For the next couple of years that will be a major focus for us at the foundation," she said. "I look forward to helping navigate these waters but it will be a big learning curve for them and for me."
Go anywhere in Greenwood County and you'd be hard-pressed to find anyone who doesn't know Mamie Nicholson.
"If you're having a discussion in the community about getting something done, Mamie's name is always going to come forth," said longtime friend Belinda Dorn Turner, who has served with Nicholson on numerous committees. "She's a conduit to getting things done. If she can't do it, she knows who can."
Dorn Turner has often joked with Nicholson about getting into politics.
"I told her she should run for mayor. 'You know the city and you were at the forefront with Floyd,'" Dorn Turner recalled. "She would win."
In her more than 40 years of work, Nicholson's fingerprints are on just about every philanthropic endeavor in this manufacturing mecca. Early childhood education? Check. Women's leadership? Check. Civic activity? Check.
"She's been a catalyst for good in this community," said Angelle LaBorde, president and chief executive officer of the Greenwood Area Chamber of Commerce. "She's a very engaged and responsible community leader."
Her involvement extends beyond her days as First Lady of Greenwood (1994 to 2008) when her husband Floyd was mayor of the city of about 30,000. He is now state senator representing District 10, which encompasses Abbeville, Greenwood, McCormick and Saluda counties. Prior to the pandemic, the Nicholson home was "always the social place for gathering" – birthday parties, anniversaries and get-togethers, Dorn Turner said.
"We've always been involved in the community to do what we could to enhance the quality of life not just for ourselves but for other people," Floyd Nicholson said.
Together, they are a power couple who became inseparable soon after her younger sister arranged for the pair to meet. The then 24-year-old high school coach and biology teacher was impressed with the young woman who was working the night shift at a medicine-capsule-making plant so she could attend college during the day.
"Her ambition and drive to do something better with her life" captivated Floyd Nicholson.
The couple married in 1977, about the time Mamie Nicholson went to work in the human resources department at Greenwood Mills, arriving in her five-speed Toyota Celica.
She moved from HR to the legal department where she provided secretarial support to the foundation, then a part-time operation that made grants to large institutions. It became a permanent full-time fixture after trustees decided to provide more grants to the larger community. Wideman was hired and he asked Nicholson to be the program officer, a job that would take her throughout the community building relationships with nonprofits and creating programs to fill community gaps.
"I had the flexibility to go out and get to know nonprofits and the community and interact with them and bring the foundation to some areas of the community that during segregation may have felt they were not a part," Nicholson recalled.
Nicholson's work led to the creation of numerous organizations. She is a founding member of the Greenwood Women's Leadership Council as well as Greenwood's Nonprofit Council and Greenwood Women Care. She was also instrumental in the creation of the county's Community Foundation.
Nicholson also was instrumental in the creation of after-school programs as well as summer programs that provided meals and skills to help boost children's academic performance.
In retrospect, "I didn't think a whole lot about it at the time as to how huge that would be," Nicholson said during a lengthy interview. "You know, you just walk into things. We all have a purpose in being here and a destiny. If you're obedient and keep moving, it'll come to you. I believe that. There's been a plan and progression in my life that has led me to this point. It's given me the empathy and sympathy and inside view that's needed when you sit in a position like this."
Those who know her say it's her quiet behind-the-scenes deeds that have endeared her to the community:
A few hours after Angelle LaBorde's husband committed suicide in 2010, Nicholson was there comforting her. "Mamie was one of the first people at my home,"LaBorde recalled.
"She's continued to show her love and support of me. She's shown great care and compassion." LaBorde said Nicholson has been known to deliver meals or send handwritten notes to grieving families and follow up with a call six months to a year later.
When Dr. Adrian Wideman (no relation to Frank Wideman III) arrived as pastor of Mt. Olive Baptist Church nine years ago, there was no pastor's aide but somehow, without fail, snacks and soft drinks were left in the pastor's study for him and his family every Sunday after service. That went on for about a month before Wideman learned it was Nicholson leaving the snacks. "She's always taken on that role even though we now have a pastor's aide. She not only serves the needs of the women of the church but me and my family as well. "
"She absolutely loves this community," LaBorde said. "She gives all she has and she wants us to be proactive in every way. She's truly made a difference."
Sheltering at home hasn't slowed the demand of those in need, nor Nicholson's work day.
She's unable to make her usual rounds around town, but there's a steady flow of emails, phone calls, webinars and weekly Zoom meetings at her Greenwood home.
At one recent Zoom meeting of the nonprofit council, the food bank needed to shut down for a week and a half to install new safety procedures involving the distribution of food. The three dozen or so council members quickly devised a plan. The Greater Greenwood United Ministry stepped up to deliver food to families while the food bank was closed.
In addition to overseeing the foundation's distribution of about $1 million a year, Nicholson sees her role as well as that of the foundation as a conduit for local nonprofits looking for technical help and staff-building support.
"We'll try to help them operate efficiently and be able to sustain themselves over time. That's been a big plus during this pandemic," Nicholson said.
She sees the foundation role becoming more crucial especially if the pandemic is a protracted one.
"There's a lot of assistance coming from the federal government and other places, but as soon as those resources run out, it will be the local communities' responsibility," Nicholson added. "We'll have to fill in the gaps in some way.
"My main goal at this point is to help sustain the nonprofits that are vital to the well-being of our community," Nicholson said. "This pandemic has really devastated our nonprofits. It has affected foundation resources. To address those issues, it will take a lot of thought and a lot of planning to be sure we're able to help those nonprofits sustain themselves moving out of this."
The Mamie Nicholson Files
Name: Mamie Elnora Williams Nicholson
Title: Program officer of the Self Family Foundation in Greenwood. On July 1, Nicholson will become president of the 78-year-old foundation created by one of the textile industry's leading families.
Hometown: The Promised Land/Whitehall Community in Greenwood County.
Education: Associate degree in business technology from Piedmont Technical College and a Bachelor of Science degree in human resource management from Limestone College.
Career Path: First job: gelatin capsule inspector on the third shift at Capsugel. Worked in the vice president's office at Piedmont Technical College. Hired as a secretary in the general education department at Piedmont Tech. Started as an administrative assistant in the human resources department at Greenwood Mills, 1977; moved to the legal department at Greenwood Mills and began providing assistance to the Self Family Foundation, 1980; joined the foundation as program officer, 1996.
Community and Philanthropic Boards: She serves on numerous boards, including Self Regional Healthcare. She's a founding member of Greenwood Women Care and founding board member of the Greenwood County Community Foundation. She also served on the Lander University Board of Trustees for more than 20 years.
Honors: Numerous, including being named 2010 Small Business Champion for Women Business by the Small Business Administration and the WLC Woman of Excellence in 2014. She received the presidential medallion from Piedmont Technical College.
Family: Husband, S.C. State Sen. Floyd Nicholson, and three sons: identical twins Douglas Anthony and Cedric Antonio, 40. Both are mechanical engineers in Easley and Columbia, respectively, and Floyd Michael, a dentist in Columbia. She also has two daughters-in-law: Anthony's wife, Nancie, and Antonio's wife, Tameka. Her mother, Elnora Williams Jennings, still lives in the Promised Land community.
Hobbies: Reading, daily walks, and working with young people at her church, Mt. Olive Baptist Church.
What's one thing people don't know about you: I can't think of anything people don't know about me.
Secret Passion: It's not such a secret but my passion is youth and I have a specific passion for working with young black males.
If you weren't doing what you're doing, what would you want to be doing: I'm doing exactly what I'm destined to do. But if I had to choose another profession it would be an elementary school teacher.
Deprecated
: Function previous_post is deprecated since version 2.0.0! Use previous_post_link() instead. in
/home/dh_se6366/scgrantmakers.com/wp-includes/functions.php
on line
6031
← Previous
Deprecated
: Function next_post is deprecated since version 2.0.0! Use next_post_link() instead. in
/home/dh_se6366/scgrantmakers.com/wp-includes/functions.php
on line
6031
Next →