Community Foundation of the Lowcountry awards over $93,000 in Grants
Posted on December 1st, 2016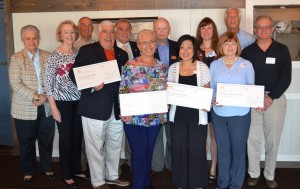 Hilton Head Island, SC — Community Foundation of the Lowcountry awarded $93,930 in grants to five local nonprofit organizations on November 30, 2016. The award was one of three competitive grant cycles the Community Foundation holds annually. The awards were presented at a luncheon held at Hudson's Seafood House on the Docks restaurant in Hilton Head Island.
The organizations and their projects are:
Citizens Opposed to Domestic Abuse/Hope Haven: Funding will support marketing and communication strategies and materials for the groups' merger.
Family Promise: The organization will use grant funding to plan and embark on a community awareness campaign.
Memory Matters: Funding will support the recruitment and employment of a new position, dementia care specialist.
Programs for Exceptional People: PEP will use the grant to develop a vocational training satellite center in Bluffton.
— more —
Since 1994, Community Foundation of the Lowcountry has been connecting people, resources and needs by helping build stronger communities and assisting donors in making a difference through charitable giving. With over 300 charitable funds, combined assets totaling $65 million and grantmaking and scholarships reaching $60 million, Community Foundation of the Lowcountry is the largest source of unrestricted philanthropic resources dedicated to Beaufort, Colleton, Hampton and Jasper counties.
For more information contact us at (843) 681-9100 or visit our website at www.cf-lowcountry.org.
# # #
Deprecated
: Function previous_post is deprecated since version 2.0.0! Use previous_post_link() instead. in
/home/dh_se6366/scgrantmakers.com/wp-includes/functions.php
on line
6031
← Previous
Deprecated
: Function next_post is deprecated since version 2.0.0! Use next_post_link() instead. in
/home/dh_se6366/scgrantmakers.com/wp-includes/functions.php
on line
6031
Next →