The Duke Endowment Names Fellow
Posted on August 11th, 2016
CHARLOTTE, NC – Charisma Hibbler has been named a Fellow at The Duke Endowment.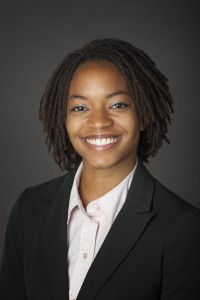 Hibbler holds an undergraduate degree in International Comparative Studies and a certificate in Nonprofit Management from Duke University in Durham, N.C. She previously worked as the volunteer coordinator in community impact at the YMCA of Greater Charlotte, where she managed the recruiting, training and placement of volunteers for the Y Readers summer and afterschool programs, and the Y Achievers career and college readiness program. Hibbler also served as a City Year AmeriCorps member in Louisiana.
Created in 2005, the Endowment's Fellowship program gives emerging leaders a unique opportunity in the philanthropic sector. The Fellowship is a full-time, two-year experience that encourages creative thinking and leadership development. Fellows are exposed to all aspects of philanthropy in the Endowment's focus areas of Child Care, Health Care, Higher Education and Rural Church. Fellows rotate through these four areas, which exposes them to different issues across the Carolinas.
Hibbler will participate in hands-on grantmaking and site visits. By the end of her two years in 2018, she'll complete a Capstone project that fits within the scope of the Endowment's work.
Based in Charlotte, N.C., and established in 1924 by industrialist and philanthropist James B. Duke, The Duke Endowment is a private foundation that strengthens communities in North Carolina and South Carolina by nurturing children, promoting health, educating minds and enriching spirits. Since its founding, it has awarded more than $3.4 billion in grants. The Endowment shares a name with Duke University and Duke Energy, but all are separate organizations.
Deprecated
: Function previous_post is deprecated since version 2.0.0! Use previous_post_link() instead. in
/home/dh_se6366/scgrantmakers.com/wp-includes/functions.php
on line
6031
← Previous
Deprecated
: Function next_post is deprecated since version 2.0.0! Use next_post_link() instead. in
/home/dh_se6366/scgrantmakers.com/wp-includes/functions.php
on line
6031
Next →